The right size for the interior mirror
A mirror is a versatile and extremely useful element in interior design. Not only can it help increase the sense of space, but also reflect light and enhance the interior design. However, when it comes to choosing the right size for an interior mirror, many face a challenge. How big should the mirror be to fit perfectly into your interior? In this article, we'll explore some important considerations and guidelines for determining the optimal size for interior mirrors.
1. Room Size and Placement:
The size of the room where the mirror will be placed is a crucial factor. In larger rooms, you can easily use larger mirrors to accentuate the space and create a stunning visual impact. In smaller rooms, however, you should use smaller mirrors to avoid excessive dominance and not to overfill the room. Also consider where you want to place the mirror. For example, a large wall mirror can serve as an eye-catcher above a fireplace or a sideboard, while a smaller mirror can look great in a hallway or bedroom.
A mirror is not only functional, but also decorative in nature.
A mirror can be used in any room
Indusigns has designed a unique mirror in two different sizes.
What dimensions should your dream mirror have?
2. Purpose:
The purpose of the mirror is also very important. If the mirror's primary purpose is to look at yourself and dress, it should be large enough to reflect the entire body. A full-length mirror is ideal in the bathroom or dressing room. On the other hand, if the mirror is more for decorative purposes and to create visual interest, it can be used in different sizes depending on how eye-catching you want to make it.
3. Style and Design:
The style and design of the mirror can also influence the choice of size. A modern, minimalist space can benefit from a large, simple mirror that conveys elegance and spaciousness. In a classic or vintage-inspired interior, smaller mirrors in eye-catching frames can make a charming addition. Make sure that the style of the mirror matches the rest of the furnishings to create a harmonious overall picture.
4. Room lighting:
Room lighting also plays an important role when choosing the mirror size. A large mirror can reflect existing light and make the room appear brighter and airier. This is particularly beneficial in rooms with limited daylight. Make sure the mirror is placed so that it captures and distributes the light optimally.
"The world is like a mirror: look at it angrily and it looks back angrily, smile and it smiles too."
Choose the right hanging height for your mirror's location.
5. Proportions:
Pay attention to the proportions of the mirror in relation to the wall on which it is placed. A mirror that is too small on a large wall can appear lost, while a mirror that is too large on a small wall can be overwhelming. Find the right balance to achieve an aesthetically pleasing result.
6. Multiple Mirrors:
In some cases it may make sense to use several smaller mirrors instead of one large mirror. These can be arranged at different heights or formations to add visual interest and add interest to the space.
In summary, the right size for an interior mirror depends on various factors, including room size, intended use, style and room lighting. There are no hard and fast rules, but it is important to carefully consider these factors in order to perfectly integrate the mirror into your interior. Remember that the mirror is not only functional, but also plays an important role in the design of your living space. By taking these considerations into account, you can ensure that your interior mirror is both practical and aesthetically pleasing, adding value to your interior design.
Discover the Indusigns story
A story of two brothers who joined forces. They have been designing unique home interiors since 2013!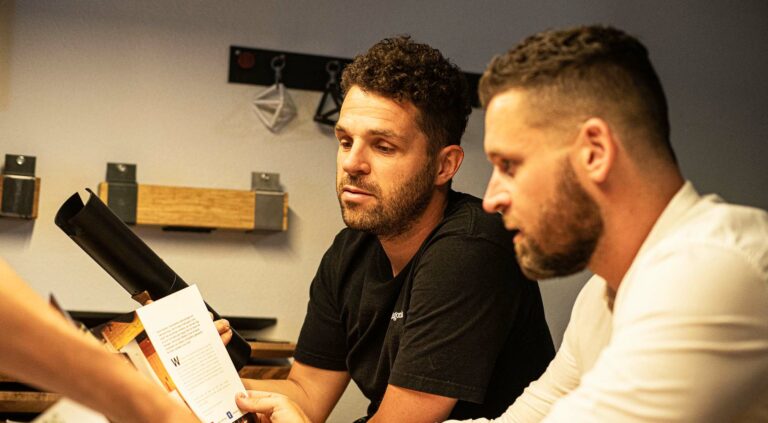 Discover the Indusigns story
A story of two brothers who joined forces. They have been designing unique home interiors since 2013!